Live lesson observations
You are all working wonderfully well!
Class 1G
I attended a wonderful Writing session last week. Miss Gillen assessed your learning throughout the session and you were so good at contributing and sharing your thinking.
As we worked through the task, I could see how you were changing your writing to make it even better. You used your phonics knowledge and tricky words to accurately build sentences. It is clear that the phonics teaching, which has taken place over time, has had significant impact. I'm so proud of you 1G, what a team you are!
Mrs Boddy
Class Reception Blue
Hello Reception Blue, I really enjoyed the Phonics session that I came to this week.
The wonderful and creative Ms Birch provided you with individual feedback throughout the session, which really pushed your learning forward.
This included explaining what you had done well and what you needed to improve. It was delightful to see you confidently unmute yourselves and share your learning – WOW!
You learnt the new sound 'oi' and from your homes or school, you were engaged throughout. Parents were able to stay and talk to Ms Birch about their child's progress at the end of the lesson, which was heart warming.
It was fabulous!
Have a lovely half-term break
Class 2W
A message to 2W from Mrs Boddy…
Well 2W, I was so impressed with your progress when I came to one of your Phonics sessions this week.
Mrs Wheelen is certainly working you hard! You gave feedback throughout by unmuting your microphones to speak so well and it was lovely to hear your voices.
You showed your writing using a small whiteboard and I could see the progress you are making. Mrs Wheelen checked the writing of the sentence and gave you feedback to push you forward. The phase 5 sounds that you were using was also impressive.
It was lovely to see you wanting to share your writing from the previous English lesson too. You are amazing – well done!
Class 4E
A message to 4E from Miss Gill…
Hello 4E, I loved your Maths session this week! The wonderful Miss Eade designed a very well-pitched session, which deepened your understanding. I could see your workings out on your whiteboards and you used your 'thumbs' to indicate your understanding so well.
I love your 'Maths Folder' as it is an excellent way to gather your work. I loved the way Mr Young was supporting the children in school to access the learning too – you are all a well-connected team!
Your subtraction of fractions really showed me how much progress you are making. A parent stayed on at the end of the session for support, which was also lovely to see. Keep it up 4E you're doing a great job!
Have a lovely half-term and we'll see you soon!
Class 6F
A message to 6F from Miss Gill…
Hello 6F, I came to one of your Writing sessions this week and it was brilliant!
I was so impressed with you and Miss Fardoe. You were able to build on the learning by working collectively together to improve each other's writing – so impressive! You were recapping the features of the writing by analysing three pieces written by members of your class. I could really see the progress you are making.
Also, 25 returns on Assignments out of a class of 27 is excellent and a very quick turnaround. The work was of high quality – well done. I could see how you all felt connected as you were working together from your home or school – I'm very proud of you all
Class 4BK
A message for 4BK from Miss Gill…
Hi 4BK, your Reading session that I attended was wonderful. Sharing the fable at the beginning of the session was a very effective way for me to see the expectations of completing the tasks at home. You are working so hard and keeping up with Miss Brown's brilliant approach to pushing you forward. The vocabulary check work that you did clearly demonstrated your progress and the definitions you provided were great. Some of you stayed behind at the end of the session to learn about the context of the words and applying the correct meaning. I also know that Miss Brown hears you read individually on a regular basis.
You quickly could recap on previous learning including the text marking and the vocabulary work too. It was so nice to see how far you have come – keep it up!
Miss Gill
Class 6M
A message for 6M from Miss Gill…
Hi 6M, your Science session that I visited was amazing! The use of Jamboard meant that following the session the fabulous Miss Lee was able to analyse your collaborative work and plan for next steps in your learning. Your knowledge of the Linnaean system was very impressive and the way you recalled levels of classification – wow
You are clearly used to working remotely and you have developed independence through break out rooms and Jamboard.
The opportunities to have this discussion is very effective. The progress you are making is phenomenal. Adults at home, your contribution and support for your children was brilliant. I'm so proud of you all!
Class 1S
A message to 1S from Mrs Boddy
…
Hi 1S, I thoroughly enjoyed the Maths session that I attended this week. Mrs Pashby certainly works hard to get the best from you. I loved seeing the progress you made when you were showing us your whiteboards and answering the targeted questioning. Parents at home also engaged in your session and provided feedback, which was wonderful to see! The session built on your prior learning of subtraction and deepened your knowledge of strategies. You even showed me your ability to apply key skills (odd/even) and some fluency questions too (+ of 3 numbers) which was perfect!
Class 1B
A message from Mrs Boddy to 1B…
Hello 1B, I loved your Phonics Session yesterday! Ms Dring certainly made the session extremely engaging and it was very clear that you really enjoy your lessons. You are making so much progress and it was wonderful to see your hard work and contributions to the session. I clearly saw your 'phoneme fingers' and how they helped you with your learning. Parents were able to stay and talk to Ms Dring about their child's progress at the end of the live lesson which was a wonderful touch. Keep it up 1B, you are amazing!
Mrs Boddy
Class 4T
4T,
your Maths session that I visited this week was fabulous! You were able to confidently self-mark your answers from the maths the previous day. Miss Tucker certainly has you well trained! You showed your understanding of the learning with your thumbs and I could really see how you were learning during the session. What struck me most was the first few minutes spent on white boards completing a fluency activity. The progress you have made to be able to represent factions in different ways – brilliant!
See you soon – Mrs Gill
Class 4L 
4L,
I loved your Writing session this week. The high expectations that Miss Landray has for you, is absolutely clear. You were fully engaged in your learning and knew exactly what was expected of you. This online session mirrored what I see in the classroom. I especially loved the whole class unmuting for sorting each word in turn to adjectives/adverbs. You were great at this and I can really see the progress you are making!
Class 6L
A message to the wonderful 6L from Mrs Halliday
Hi 6L,
I just wanted to let you know what a fabulous class you are!!
I really enjoyed joining you for your algebra lesson today and was so impressed!
You were all so keen to do your best and show how much you have learnt. I love how you use the 'Chat' to communicate with Mrs Livingstone and how you raise your 'hands'
to let her know you would like to share. You are all so polite and respectful. Your knowledge of algebra was fantastic but what I also noticed was your knowledge of decimal numbers!!
Well done 6L and a huge well done to Mrs L too who has such high expectations of you.
Class 6B
A message to 6B from Mrs Halliday
Hello 6B!
Oh my goodness!!! I was so impressed by your wonderful Rainforest poems this morning
Billy, Caitlyn and Alisia – your poems were exceptional and I was so proud of you!
I know that all of you will have poems of equally high quality because Mrs Bull has such high expectations of what you can achieve and it is so evident that you want to show her you can reach and surpass those expectations
The picture below shows all of you contributing facts to be included in your next stanza – you all worked so hard.
Thank you and a huge WELL DONE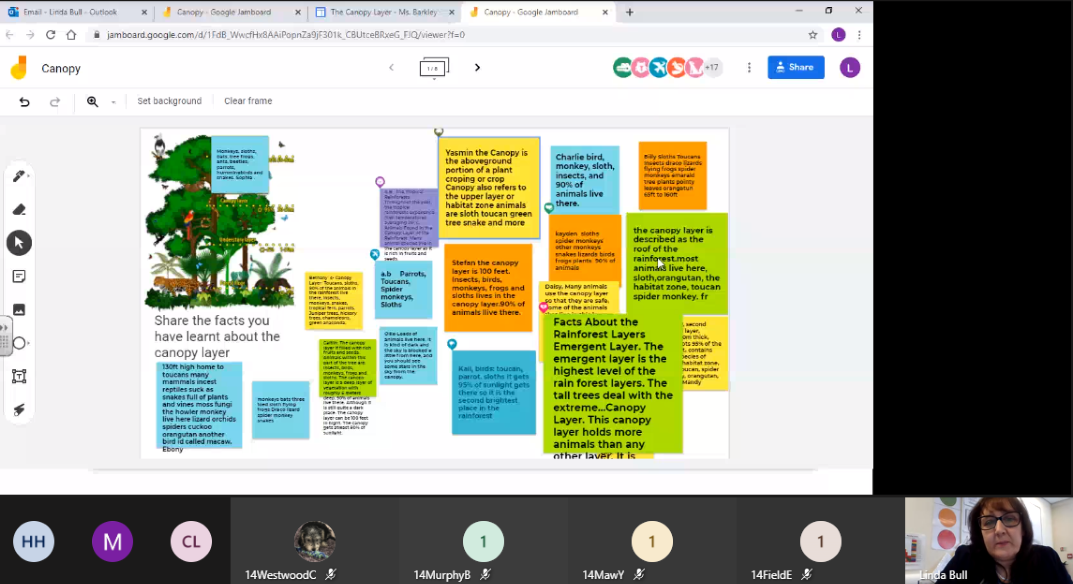 Class 5GI & 5E
A message to 5GI and 5E from Miss Gill…
Hello 5GI
It is absolutely clear that Miss Ingham has high expectations for you. You were so engaged in the Reading session I joined this week. Your online learning mirrored what I see in the classroom – it was brilliant
You were desperate to read aloud to the class and I was impressed how seamless this was. Many of you had this opportunity and showed a clear love of reading. It was wonderful – thank you
Hello 5E
I was so interested to hear about your 'Blogs' when I attended your Writing session this week. You are so motivated! The very clever Miss Cross sent you into 'break-out' rooms to have discussions – just so brilliant
I could see how you worked collaboratively and you were so well connected with each other. I just loved it and the progress you are making is brilliant too – thank you
Miss Gill
Class 3H, 3C & 5R
A message to 3H, 3C and 5R from Miss Gill
Well
3H
you are really working your socks off for the fabulous Miss Galinski! I had the pleasure of joining your Persuasive Writing session this week. By the end of the session you knew how to use the words – wholesome, sumptuous and hearty, which I know you will be applied to future writing. You are making so much progress and I was impressed how you all made your writing link to Science & DT! Keep up the great work!
Miss Chapman is certainly pushing you forward
3C
. I came to one of your Maths sessions this week and I loved it! You worked through many of the fraction skills that you are going to need next half-term e.g. adding, subtracting, simplifying. You shared your thoughts and working out and it was really impressive – thank you
Hello
5R
– It was great to visit one of your Maths sessions this week. This was the start of a new topic – Fractions. You all made links to previous learning and it was amazing how much you had remembered! The super Miss Ridsdale has clearly taught you exceptionally well. I was also really impressed by your use throughout the session of mathematical vocabulary. It was such a pleasure to be there, thank you
See you soon
Miss Gill
Class 1P & Rec.Red
A message to 1P and Reception Red from Mrs Boddy
1P – I really enjoyed coming to your Phonics session this week. Wow Phase 5! The wonderful Mrs Poulter has worked you so hard and the progress you are making is fantastic! I couldn't believe how many 'tricky words' you know – well done and thank you
Reception Red – Well, the sentences you wrote in the Writing session I joined were just amazing!
The brilliant Mrs Davis was asking you to share your work and the progress you are making is wonderful! It was such a pleasure to witness this learning – thank you
Mrs Boddy
Class 2H
A message for 2H from Mrs Halliday
Hello 2H
Wow Wow Wow
what an amazing writing lesson I was so privileged to be able to join this morning. I cannot wait to be able to read your diary entries.
You listened brilliantly and shared all of your ideas so confidently. I could see how much you were enjoying the lesson and you all understood exactly what Mrs Hill was talking about when she mentioned words like 'suffix', 'first person', and 'adjective'! You certainly showed how much you have been learning about being a good writer and your knowledge of the Fire of London.
Well done 2H – I'm so proud of you all.
Class 5H
A message for 5H from Mrs Halliday
Well 5H … what can I say? I absolutely loved seeing you learn all about how to convert fractions into a decimal number today. You worked so hard!!
You showed just how skilled you are now at showing Miss Hargreaves your work online. Some of you used your whiteboards, some of you the 'chat' and some of you enjoyed sharing your thinking out loud by unmuting your microphones. You were all so polite, raising your virtual 'hands'
just like you would in class when you wanted to speak.
Well done 5H and keep it up. We'll all be back together soon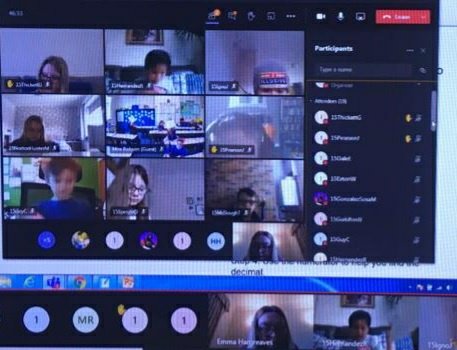 Class 2B
🌈👋💙A message to class 2B from Mr Johnson…
Good afternoon 2B. I have a little secret to share with you. 🧐I was absolutely blown away with your learning! It actually brought tears to my eyes because I was so very proud of you and Mrs Broughton. You all listened very well and turned on your microphones when asked to share your ideas. I was very impressed with the Mathematical vocabulary you were using like 'mass', 'lighter/heavier'. It was amazing 🤩 I can see the progress you are making and although we can't be together just yet, I really felt that we were together this morning, having fun together and learning together. I met with Mrs Broughton on TEAMS after the session to tell her how wonderful she is and how amazing you are.
This morning, I sneaked into your 'live' Maths session where you were learning about 'weights & measures'!😁 I'm going to be popping into sessions across school this week to have a peak at the learning and yours was the first lesson I have visited.
Well done and thank you 2B – you are all superstars!
See you soon, I hope.
Class 3F
🤩🧡A message to 3F from Mr Johnson…
Hello 3F, well I came to your Reading session this morning with Miss Gill and what a pleasure it was. The fabulous Miss Richard's certainly works your socks off! 🏋️🥇🏆
The way you unpicked the text was amazing. 😍 You pulled out interesting and challenging words and found their meaning in the dictionary. You were using personification, very complicated technical vocabulary and linking your learning to work you completed in Year 2! Fabulous 🤩
Miss Richard's is clearly pushing you towards your end of year targets and you are certainly rising to the challenge. Thank you so much and I look forward to seeing the work you produce on Microsoft Forms in response to todays learning 👏👏
Well done and see you soon

Reception Green
A message for Reception Green from Mr Johnson…🤩
Hello Reception Green, 🖐 well you are all superstars! This morning I came to your 'live' phonics session with Mrs Boddy. We were so impressed with you and the wonderful Miss Mackin 😍 When I used to pop into your classroom on my walk around school, I always joined you if you were engaged in Phonics. Well, all of that learning has certainly helped you to make so much progress since then. I could see that you have learnt many more of your tricky words. You learnt the 'ow' sound today and were able to blend / segment beautifully. But it didn't stop there! Oh no no! 😁 You then went on to use today's new words in some wonderful sentences. "A cow was in the town!", brilliant – loved the picture! Liarna wrote "A cow was in a gown!" fabulous 🤩 The way you popped in and out with your microphones on to contribute was great. The way you were clearly pronouncing the diagraphs and trigraphs blew me away! The wonderful Miss Mackin has done a great job with you 👍 I knew you were brilliant of course but I left today feeling how you are going to progress so well into Year 1 when the time comes. Oh and it was so lovely to see a 'thumbs' up from all the grown ups at home, who were clearly engaged and using their Phoneme Fingers – I was too. Pat on the back to you! 🤣😂😅 Keep it up RG and thank you 👏👏👏
See you soon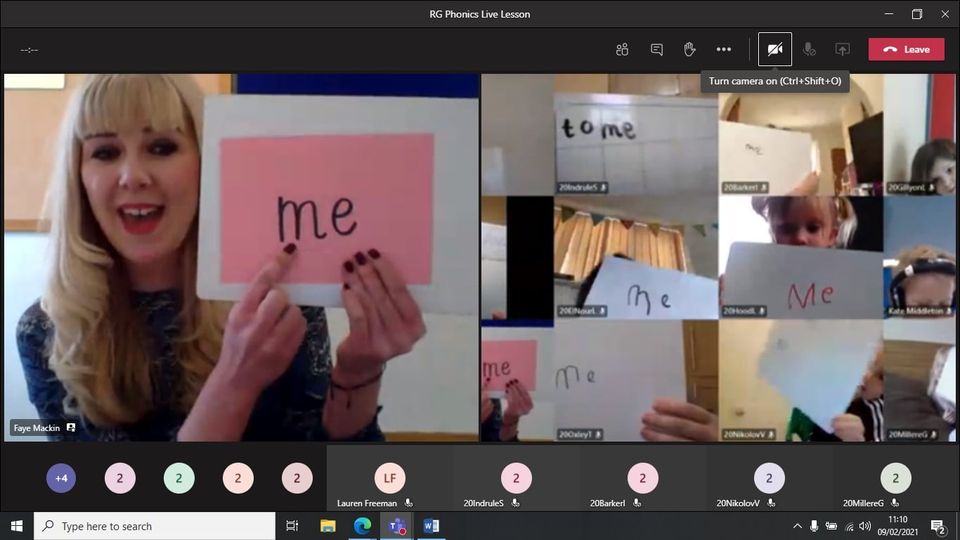 Reception Yellow
A message to Reception Yellow from Mrs Halliday 💛💛💛
Hi Reception Yellow,
I just wanted to tell you just how proud I am of all of you 🥰 I hope that you spotted I joined your maths lesson this morning. ➕➖I had to keep my camera turned off so I didn't distract you like I usually do when you are all in school and I pop in your classroom 😁 You know how you like to tell me lots of interesting news 😂
Anyway, You were all brilliant ⭐️ You listened so well to Mrs Stuart and I love how you used your fingers, whiteboards and cubes to show your answers to the take away questions you were working on. I could see that you were all thinking hard and enjoying how Mrs Stuart uses songs 🎤🎼 to help you learn.
Although I would much prefer to see you all in school, I really enjoyed seeing you on my computer screen today and I hope to see you all again soon.
Class 3R
A message to Class 3R from Mrs Halliday 💙💙💙
Hello 3R 👋
I hope that you noticed that I joined your maths lesson today ✖️➗
Goodness me, I cannot tell you just how impressed I was!! 🤯
Mrs Revell certainly has high standards of your learning and you didn't let her down. Your understanding of fractions and how you were able to convert a fraction into its simplest form was AMAZING⭐️⭐️⭐️
I bet even your parents and carers would have found it very tricky.
I loved how you put your 'hand up' 🤚 when you wanted to speak and how you showed all your working out on your whiteboards.
I was even more blown away by how you were able to explain your thinking.
So THANK YOU Mrs Revell and 3R. Can I pop along again soon? 😁
Bye for now,