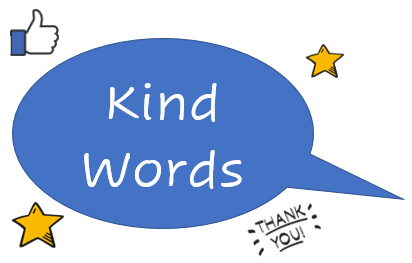 "Your kind words mean so much to us"
Good afternoon,
I'm writing regarding a recent incident that took place after school near the school premises.
I would like to thank all staff for their input. I feel my child was safe and continues to be safe both mentally and physically and also importantly the education that was provided around the incident that continues to be provided is excellent.
I feel all staff went above and beyond their role and managed a very difficult situation professionally and with values and dignity to all; showing standards, moral and safety to the school, my child and wider as brilliant!
The communication has been second to none with all staff showing understanding and knowledge of a difficult time showing the level of safety within the whole school team was managed with absolute accuracy and prominent in the school values.
Personally and professionally I feel there has been a great deal of steps and support that was immediately sought, put in place and managed and therefore, any risk – not only what was potentially immediate but also future both mentally and physically has been managed to a level I and my child feel more than happy with.
Many thanks to you all
Dear Mr.Johnson,

 

I just wanted to drop you a line to let you know how we have been impressed with the way your school has coped in the current situation. Running a school must have its trials at any time but we feel you need to be complemented just now.

 

Miss Richards particularly appears to have pulled out all the stops to ensure the children, in her class, get the best attention.

 

Once again, well done!
Hi Mr Johnson,
I just wanted to write a quick email to praise the online lessons and teaching that you have all been delivering since Christmas.
Having 3 children at Gladstone Road i found the home schooling during the first lockdown a little taxing to say the least!! But the structure , online lessons and packs over the last few weeks (from a parents perspective ) have been so much better especially considering the ridiculously short amount of warning time you that the school would be closing.
Please pass on my thanks and gratitude to
Miss Ingham , Mrs Livingstone and Mrs Wheelen from a much much less stressed parent : )
Thank you
This school is spectacular! Gladstone Road PS are kind and helpful . My child comes home everyday happy and smart!
Every single member of staff working at Gladstone School during this pandemic deserves so much praise and appreciation, teachers, TA's office workers cleaners , cooks, all those who are behind the scenes and we don't see.
Thank you from the bottom of our hearts for being there for our children and the parents."
Big shout out to Miss Landray, always smiling, always patient, makes everything feel manageable. Thanks a million for everything ❤️
All Gladstone Road staff are incredibly kind, supportive and hard working. We salute you! We consider ourselves extremely lucky parents to have our child attend this fabulous school. Thank you for all you do.
I would just like to thank all staff at School for all your incredible hard work since my son started in reception class last September. We are always so confident on what he is doing and learning at school and we do appreciate the home learning even if it's hard to make him stick to it.
Many thanks
Mr R Angus
Just that we are incredibly grateful, and understand that you're all working super hard which is enabling our children to stay safe. We couldn't ask for anything more x
Both myself and my husband feel the staff have worked brilliantly over the past 10 months. Nothing is ever an issue. Been able to feel comfortable approaching staff makes things so much easier. Thank you.
Both my children are very happy attending the school. The staff are helpful and very approachable. The school really seem to care about the well being of the children.
You have all done a fantastic job! Everyone at the school has pull together to ensure that all the children have not missed out on their education, even though they aren't inside the school building. You have certainly made the very best you can of a bad situation! Well done everyone!
My children have enjoyed their learning and under the circumstances I think school have done their best and feel very lucky I have my children here. I also love the Facebook page as I notice not many schools post as many regular updates to the parents as Gladstone road do. So it always keeps me in the know and I never feel in the dark during these times, I don't know what I'd do without the Gladstone Road Facebook page.
Thank you all for the continued support and we appreciate every member of staff working hard through lockdown to ensure our children's education continues.
I moved my little girl to Gladstone road with having a lot of problems with her old school causing anxiety and a very unhappy child. Gladstone road changed her/our life in a few days. I got my happy little girl back with extra confidence. They're so helpful if you have a problem, they do everything they can to help. Amazing school and staff can't thank them enough
Absolutely amazed by all your hard work each and everyone of the staff ! Your all really appreciated so thank you !
"Miss L is doing a fab job!! She is doing all she can to make sure my daughter is successful. She takes on the personal learning of her students and strives to give them all she can.
Teaching online is hard and is not what teachers signed up for but the school is doing their best to ensure the children have what they need… Right down to the admin staff. Everyone is doing their bit and I'm so please my daughter comes here.
Keep it up everyone!! 🙌🏻🙌🏻🙌🏻"
Doing a great job and my daugther is loving online lessons. She loves seeing her friends and her teacher, makes all this a little bit more normal. All the staff are doing a brilliant job. 
What a School! No parent can say anything but positive things about the way you've handled all of this. Fab staff! We are so grateful.
Thank you for all your hard work. My child has enjoyed her lessons. Teaching is a big learning curve but 4L have been lead really well and she knows what she is doing and has a schedule and is engaged with learning. Your team is doing really well!